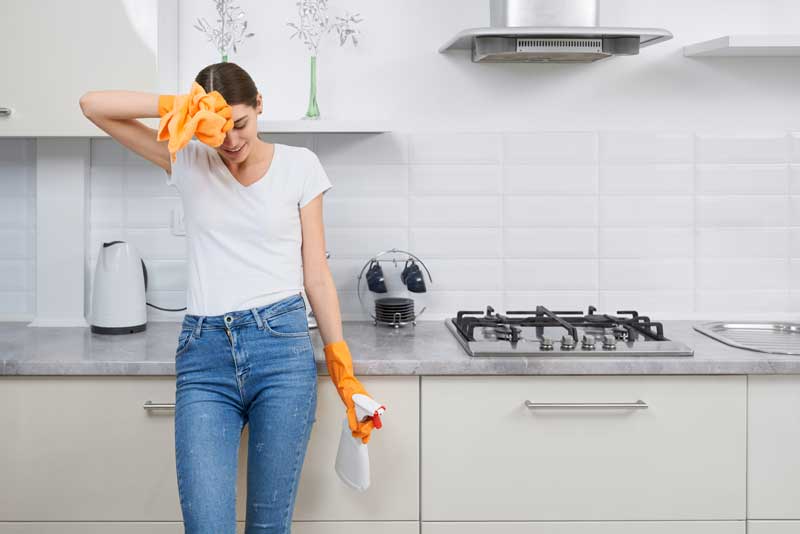 Cleanliness and home organization can be a formidable task. As we age, we tend to become less active compared to our younger years and may struggle with day-to-day tasks. If you need help or have parents, elderly friends, or family members who live independently and often spend time cleaning and helping out, here are some tips that can encourage self-reliance and reduce potential risks.
Open Discussion: We recommend having an open discussion about household chores that can confidently be accomplished without undue stress. Those tasks can be completed according to the capacity of physical and mental states. Doing any job that causes overexertion may lead to injury. Understand limitations while determining what can and can't be done safely.
Checklist: Make a cleaning checklist that comprises all basic household chores. Try sorting these chores into daily, weekly and bi-weekly frequency. Some jobs, such as deep cleaning, can be carried out occasionally and may require a few helping hands. Tasks that require bending, twisting, carrying, or lifting heavy equipment, etc. may also require additional help. These can include:

Taking out the trash
Vacuuming
Carrying items up or down stairs
Moving furniture to clean the floor
Scrubbing or washing floors
Cleaning the bathtub & toilet

Organize Cleaning Supplies: Cleaning supplies should be kept in a safe and easy-to-access area. In case of a multi-story home, having a second stash of cleaning supplies stored upstairs can help to avoid frequent up and down movement for seniors.
Avoid Dangerous Clutter/Potential Risks: Over the course of a lifetime, we may accumulate various treasured items, memories, etc. that can pile up and present a potential hazard. Downsizing excessive clutter is important to avoid falls and injury. Items that are no longer needed and that don't carry heavy emotional importance can be donated. Fewer physical belongings may make cleaning a little easier.
A Dedicated Spot for Everything: Make a home for everything and keep everything in its home. Identify an easily accessible location for frequently used items that may be needed throughout the day. This helps to stay organized and avoids clutter accumulation. Daily essentials can include cell phones, chargers, medicine, car keys, coats, daily grocery items, etc. Knowing where something should be and keeping it there eliminates the frustration of having to search for it when it is needed.
Check Safety Equipment: Check whether smoke detectors are in proper order or not. It's also good to test them and ensure that the volume is loud enough to be heard. Other devices, such as the HVAC system, garbage disposal, water heater, thermostat, etc. should also be checked to ensure working order.
Medicine Check: Besides a first aid kit, if taking medication is a daily requirement, designate a spot for water bottles and pre-sort medicines in a pill organizer, so they can easily be taken based on morning/evening/weekly schedules and routines. Throw out any expired medicines. Reminders can be set on a cell phone, so medication is taken on time.
Check Expiry Date of Food Items: Clear out any unwanted or expired leftovers and food items stored in the refrigerator and pantry to avoid consuming spoiled goods.
My Maid Day is a local, trusted and reliable name for cleaning and maid services in Plano, Dallas, Austin, San Antonio and Nearby areas. Give us a call or contact us for a cleaning quote. We offer daily, weekly, monthly, or appointment cleaning services that can help you get it all done.