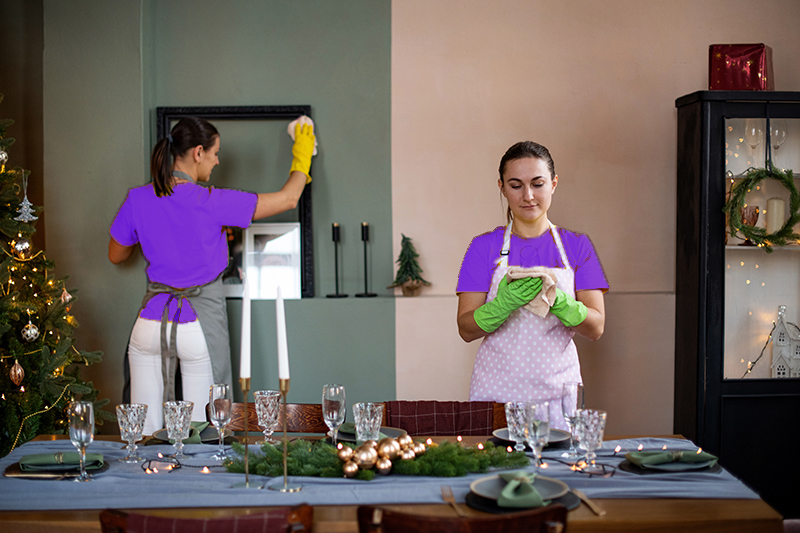 With the holiday season just around the corner, there's so much to prepare: gifts, meals, decorations, yard work, and a clean home for hosting holiday events. The one thing you shouldn't stress about? Getting your home guest-ready. Thanks to one-day cleaning services, like those offered by My Maid Day in Dallas, achieving a flawless living space is easier and quicker than you might think.
The Benefits of a One-Day Cleaning Makeover
Stress-Free Hosting: The holidays bring us together in joy and celebration, surrounded by family and loved ones. The pressure of hosting can quickly escalate and begin to feel out of control. Booking a one-day cleaning service before your holiday event allows you to outsource tasks and lighten your mental load. Think of it as a gift to yourself: the ability to focus entirely on your guests, the food, and the memories you're making, all the while knowing that your home radiates warmth and cleanliness.
Transformative Results in Minimal Time: Professional cleaning services are tailored to deliver exceptional results quickly. Our team, equipped with the best tools and products, ensures your home gets a comprehensive revamp in record time. From polishing surfaces to attending to the more minor details, you'll be amazed at the transformation that can occur in just one day.  It's not just about cleaning; it's like giving your home a mini makeover and rejuvenating your living space, making it brighter, fresher, and more festive.
Customized Cleaning for Your Needs: The holidays bring plenty of extra tasks, and each home has its own special cleaning needs and considerations. We understand these nuances. That's why our one-day cleaning service isn't a one-size-fits-all. It's molded to fit the contours of your home, ensuring everything, from your priceless heirlooms to your comfy couch, gets the care and attention it deserves. With our tailored service, you get the flexibility to prioritize, ensuring your home shines exactly the way you envision.
As the holiday season approaches and your endless to-do list grows, obtaining a spotless home doesn't have to be a challenge! Outsource what you can and focus on the things that require your own special touches. Thankfully, a sparkling home can be achieved in record time with the help of professionals, giving you the freedom to dive deep into the holiday spirit, laugh louder, sing off-key, and cherish the moments that truly matter without added stress.
Experience the magic of a holiday home transformation with our one-day cleaning services. Let us sprinkle a little festive sparkle on your home and make it as ready as you are to create and cherish beautiful memories. Contact the experts at My Maid Day in Dallas for a free quote today and bring that festive sparkle to your home!