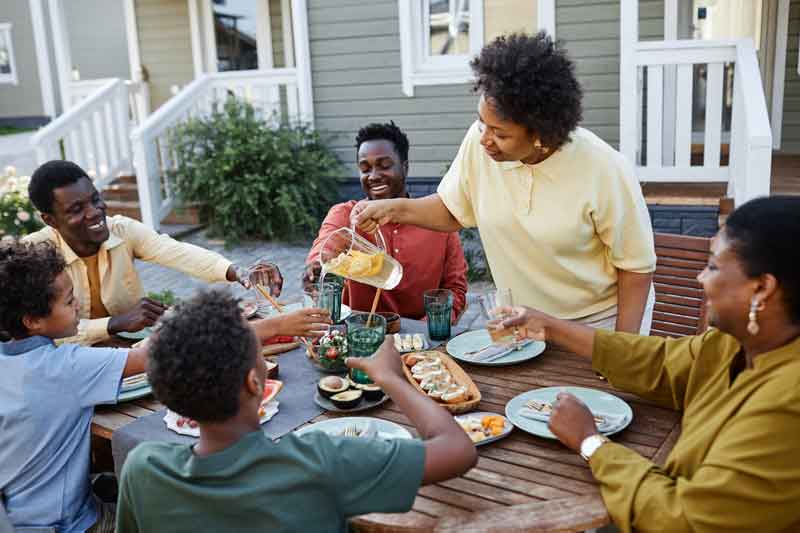 Holidays, events, and celebrations are for sharing with family and friends, but the prep work can be overwhelming when you're hosting. Knowing where to start can be challenging. We can't plan the whole event for you, but we can help you get organized so your home will sparkle and shine! We've curated some tips and tricks to help you prepare your home for holiday guests and transform your home into a welcoming haven. Get ready for the holiday season with a Guest Ready Home.
Start with a deep clean - Nothing makes your home feel fresher and more inviting than a thorough, top-to-bottom cleaning. Set aside a day for tasks like scrubbing the bathrooms, dusting the baseboards, and vacuuming. Pro tip: work from the top down so you don't accidentally spread dust and dirt onto already-clean surfaces.
Declutter and organize - A clutter-free home is a welcoming home. Start by removing any unnecessary items from common areas and organizing your belongings. Designate a "donation station" for things you no longer need. Consider renting a storage unit for temporarily stashing seasonal or bulky items.
Make room for your guests - Set up a comfortable sleeping space or make room in the closet to help your guests feel at home. Rearrange furniture, if needed, to create space for air mattresses or luggage, and ensure your visitors have everything they need.
Freshen up your linens - Clean, crisp linens are a must for overnight guests. Change all the bed linens, put out fresh towels, and pull out your special tablecloths. Consider investing in a few extra sets to have on hand in case of unexpected spills or longer overnight stays.
Pay attention to the details - Scented candles, holiday decorations, and a well-stocked bathroom make a big difference to your guests. Add a festive touch with seasonal accents and cozy throws. Stock up on essentials like toilet paper, soap, and extra toothbrushes.
Clean the kitchen and appliances - Holiday celebrations often revolve around food, so a clean kitchen is crucial. Set aside time to scrub your appliances, sanitize countertops, and organize your pantry.
Create a welcoming outdoor space - The outside of your home is the first thing your guests will see, so show it some love, too! Sweep your patio, deck, or porch, and add some festive decorations or comfortable seating to create a cozy spot for guests to enjoy the fresh air.
Keep a cleaning schedule - With just a little planning, you can stay on top of the mess and keep your home well-maintained. Create a simple cleaning schedule to tackle tasks like wiping down surfaces, vacuuming, and laundry, so you can keep your home guest-ready throughout the year.
Remember to relax! - Don't let the stress of holiday cleaning ruin your fun. Break tasks into manageable chunks and enlist the help of family members to make the process more enjoyable. Reward yourself with a hot cocoa or a holiday movie after a day of hard work.
Feeling overwhelmed? Let My Maid Day take the stress out of your holiday cleaning. Our cleaning professionals will do all the prep work for you, so you can enjoy the celebration with the ones you love. With expert help, you can sit back, relax, and enjoy the festivities, knowing your home is in capable hands. Call us for a free quote today!