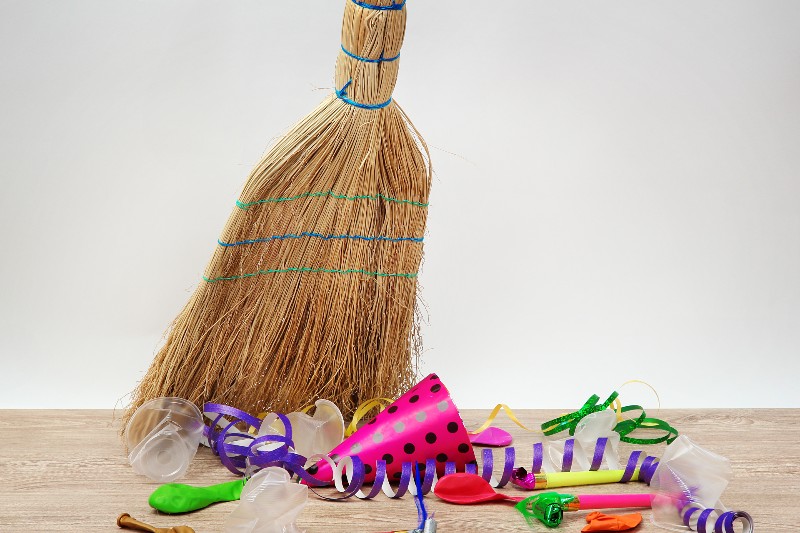 Throwing parties is a joy, uniting friends and family under your roof for an evening of fun. However, once the last guest leaves and you're left with the aftermath, it's easy to swear off hosting for good. The sight of sticky stains, empty bottles, and food remnants can be overwhelming. But with the right strategy, you can restore your home to its pre-party glory in no time.
The Immediate Aftermath: Same-day Cleanup Tasks
Resist the temptation to leave all the cleaning for the next day. Even though it may seem overwhelming, doing a quick clean-up immediately after the party can prevent some stains from setting and help you stay organized. Here's a simple checklist to follow:
Collect and Sort Trash: Start by getting a large trash bag and gathering food scraps, empty bottles, and other trash. Keep multiple trash bags on hand to sort recyclables immediately, saving you time later.
Address Food Remnants: Discard food scraps as soon as possible to avoid attracting pests. If there's leftover food you plan to keep, store it in airtight containers or zip them in sealed bags to prevent spoilage.
Spot Clean: Check your sofa, rug, and other surfaces for stains. The sooner you treat them, the better your chances of complete removal.
The Day After: Cleaning in Full Swing
After the initial clean-up, the heavy-duty tasks can wait until the next day. A methodical approach can make it much more manageable.
Bathrooms: Clean and sanitize your bathroom thoroughly. Use cleaners with bleach to ensure deep sanitization and to save time.
Dirty Dishes: If you opted against disposable dinnerware or offered home-cooked goodies, you likely have a sink full of dishes. Hand wash larger items and fill the dishwasher with smaller ones. Start filling from the back for optimal space use.
Vacuum: Use a vacuum to get rid of any remaining food crumbs, dust, and debris on the floors.
Disinfection: The Final Touch
Post-party cleaning is incomplete without thorough disinfection. While cleaning products with bleach are effective, steam cleaning can be a more environmentally friendly alternative. A steam cleaner releases steam into cloth fibers, killing bacteria and sanitizing the surfaces. Plus, it kills and removes more than 99% of bacteria, viruses, germs, and other pathogens, ensuring comprehensive cleaning.
Cleanup Arsenal
Here's what you need for efficient post-party cleanup:
A vacuum cleaner
A damp cloth
Multipurpose cleaning solution
Sturdy trash bags
Microfiber cloth
Steam cleaner
Remember, the secret to easy post-party cleanup lies in being organized and methodical. By tackling tasks in the right order and using efficient cleaning methods, you can restore your home to its pre-party glory with less stress and effort. However, if you're looking for a truly effortless cleanup, consider calling in the professionals. At My Maid Day, our expert team ensures a comprehensive and meticulous cleanup that leaves your home spotless and fresh. Hosting doesn't have to be a headache - with My Maid Day at your service, you can enjoy the party and leave the cleanup to us. Contact us today for a free quote and experience the convenience of professional cleaning services.