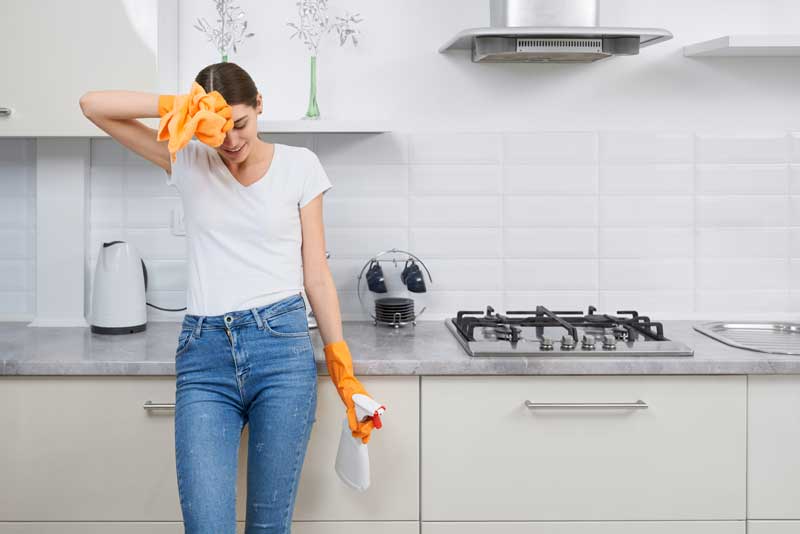 Thanksgiving is around the corner. Are you planning to host Thanksgiving dinner this year? Don't wait, get your cooking supplies out of the box and start your preparations. Don't panic about before and after Thanksgiving cleaning.  We have curated a checklist to help you through the holidays and make your cleaning an overwhelming task.
Floor To Ceiling Cleaning: Start your cleaning from ceiling to floor. We recommend to start at the top. Ceiling area is home to cobwebs and dust. After cleaning the ceiling area, move your cabinets and other fixtures t dust. Then wipe or dust off the floor area. Use a vacuum cleaner to vacuum the carpets and the seating. This will help you to deeply clean the entire home without missing any crucial spots.
Refrigerator: Food is an integral part of Thanksgiving or any other holiday celebration. If you are having an empty and working second refrigerator, then things are quite simple for you. You simply need to move the contents of first to second refrigerator. In absence of a spare refrigerator, you need to clean it. First step is to pull out all the food items stored inside and check for expiration dates. Toss way expired items or stuff that is no longer needed. Wash out drawers, shelves and dry them using a clean dry towel before putting them back in your refrigerator. Take time to organize the remaining so that there's enough room for all your thanksgiving dishes. Maid services often can be hired to do this type of cleaning as well.
Carpets: Make use of vacuum cleaner to remove all the dust and mites. Make use of natural and DIY odor and stain removers to get fresh and clean smelling carpet. It is advisable to place a doormat at the entrance of every room or alternatively you can set up a spot for guests to remove their footwear while coming in. This will help in keeping your floors and carpets clean. Hiring professional cleaners to clean the carpets can help bet the carpets in great shape.
Trash Bins: Buy a new trash bin or set up a separate container for leftover food, beverage containers, plastic and paper products. In short set up a small system to gather all the trash (after Thanksgiving dinner) at one spot. Label them properly so that your guests can easily know where everything goes, once they finish eating. You can also put a few extra trash bags underneath first one to store any excess trash.
Make Use Of Recyclable Plastic & Paper Products: Doing dishes is a tiring job. If you are having kids at home or guests, it is advisable to put on a plastic tablecloth instead of linen one. Cleaning a plastic tablecloth is much easier and time savvy. Invest in some fancy paper plates for deserts.
My Maid Day is a trusted name for expert maid service and professional cleaning services in Dallas and Austin areas. We offer an extensive choice of home cleaning options and a wide range of cleaning services to meet any household's needs, including our 100% satisfaction guarantee. Schedule your cleaning service and experience the difference with our professional cleaning services.