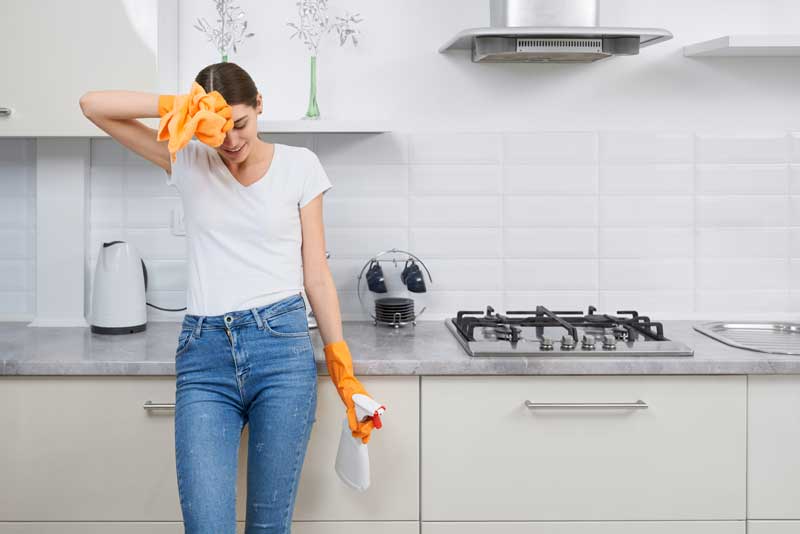 Are you expecting guests but still need to clean? We've got you covered with some easy cleaning tips to help you get the job done faster and reveal a sparkling home. Here are our top 10 tips to help you speed through the process:
1. Pick Up Trash: Walk through each room of your house armed with a trash bag to easily throw away anything that needs to go out. As you are walking through, assess the other areas that need attention and make a mental note of where those items will go. Start a load of laundry and place the dishes in the dishwasher before addressing the clutter.
2. Get a Cleaning Caddy: Cleaning supplies and equipment are any cleaner's weapon for spotless cleaning. A cleaning caddy helps you move around the house without wasting time walking back and forth for various supplies. We suggest stocking your caddy with the following:
a. Dust or microfiber cloth
b. Broom and dustpan
c. Protective rubber gloves
d. Trash bags
e. Disinfectant
f. All-purpose cleaner
g. Toilet bowl cleaner
h. Carpet/scrub brush
i. Glass cleaner and paper towels
A mop bucket is a good way to make sure you are ready to tackle the floors as soon as the rest has been put away and cleaned. For hardwood floors, use a cleaner designed for wood to avoid causing water damage and ensure your floors are shiny and clean. If you have time, consider vacuuming upholstery for a clean and dust-free appearance.
3. Start at the Top: Start cleaning from the highest point of your room i.e., ceiling, fans, top of cabinet and shelves, etc. Starting at the top allows dust to settle on lower, uncleaned surfaces, saving you time.
4. Keep Everything in a Designated Spot: Don't leave things cluttered about your home. Designate a spot for everything and make sure it gets put back when you are finished with it. This helps to cut down on the time it takes to put clutter away once it accumulates on surfaces. Deal with clutter on a room-by-room basis, moving on to the next area once one is finished.
5. Window Cleaning Time: Windows need attention too! To get beautiful and shining windows quickly, use a squeegee. Use long vertical strokes for a streak-free shine. If you don't have a squeegee, use an old newspaper or paper towels to remove the cleaner.
6. Use a Feather Duster: Feather dusters can easily get into tight spots that are often hard to reach using a cloth duster and your hand. All homes accumulate dust, and dusters can help you wipe it clean quickly. It is the preferred method for dusting by many professional Plano cleaning companies and maid services.
7. Clean Up Your Kitchen and Laundry Room: Kitchens can get greasy. Use the correct cleaners for the job to make sure you are working as efficiently as possible. Don't overlook the tiles of your bathroom! It is a small detail that makes a big difference. If you have hard water build up in the sinks or toilets, use a commercial cleaning agent.
8. Sweep &Vacuum Up: Once the clutter has been put away and your home is clean and dust-free, it's time to focus on the floors. Sweep all tile and hard surfaces to prepare for mopping. Carpet and upholstery should be vacuumed.
9. Sanitizing and Mopping: This is last but not least. Sanitize and mop your entire house with water and a cleaning solution. Your home will sparkle and smell amazing. While the floors dry, change your sheets and make the beds. While your guests may not enter your bedrooms, it will give you confidence knowing your home is beautiful and tidy.
10. Instill Freshness: Use a mild room spray or diffuser with essential oils to fill your home with beautiful aromas. It's a small touch that leaves a great impression.
If you need assistance getting your home in order, call a professional Plano cleaning company. My Maid Day is a trusted name for local home cleaning and maid services in Dallas, Texas. We offer an extensive array of maid and cleaning services to meet your changing cleaning needs. We are here when you need us. For an estimate in Plano, Dallas, or San Antonio, give us a call or schedule an appointment.