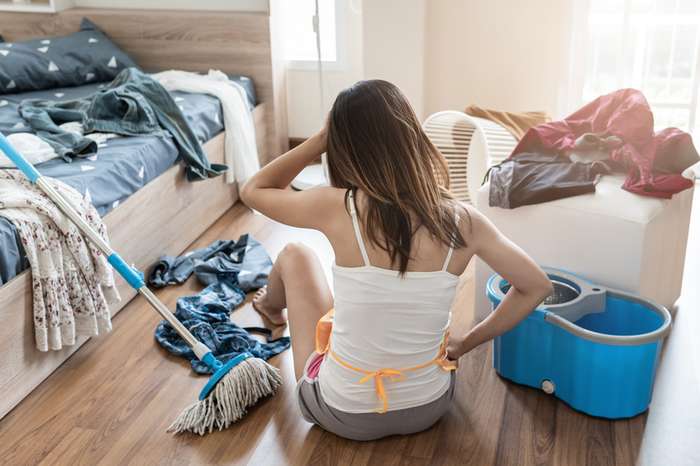 Your bedroom should be a retreat. It's the place you go to wind down, relax, and get a good night's sleep after a long day. A clean room helps you to de-stress. Here are seven simple steps to help you stay on track and get your room tidy and inviting in no time:
Dirty Clothes: Gather your dirty clothes and move them to a hamper or laundry room.
Arrange Clean Clothes: If you have a basket of clean clothes in your room, put them away.
Make Your Bed: Change your sheets, pillowcases, and comforter, so everything is nice and fresh.
Clean Surface Clutter: Tackle the clutter on dressers, desks, side tables, and vanities. These are hot spots where small objects quickly accumulate over time.
Remove Dust: Dust can affect your breathing, so take a few minutes to dust your fans, curtains, and light fixtures. A vacuum hose can help you clean them without spreading the dust into the air.
Wipe Surfaces: Now that our dusting is done and surfaces cleared, we can clean them. Wipe down surfaces and clean your mirrors.
Throw Out Trash: Gather all the trash and get it out of your bedroom. If you have a trashcan in your room, empty that as well. If you don't have a trashcan, consider getting one to help you keep trash off the floor and surfaces.
How Often Should You Deep Clean Your Bedroom?
Your lifestyle will determine how often you should deep clean your bedroom. If you have small children, pets, etc., you may need to deep clean more often. Your room should get a general cleaning at least once a week.
If you need some help, consider hiring a professional cleaning service. Here are a few of the services we offer at My Maid Day::
Deep cleaning
Occasional cleaning
Bedroom Cleaning Services in Plano, Dallas, Austin, and San Antonio
If regularly cleaning your bedroom doesn't fit your busy routine, contact My Maid Day today! At My Maid Day, we understand that a messy bedroom can affect your ability to relax and enjoy your space. We offer bedroom cleaning services in Plano, Dallas, Austin, and San Antonio. Our bedroom cleaning services include, but are not limited to, the following:
Dust bookshelves
Dust tables
Dust television stands
Dust baseboards
Dust ceiling fans
Remove cobwebs from corners
Empty wastebaskets and much more!
If you have questions or for a free quote, call us at (469) 795-9050