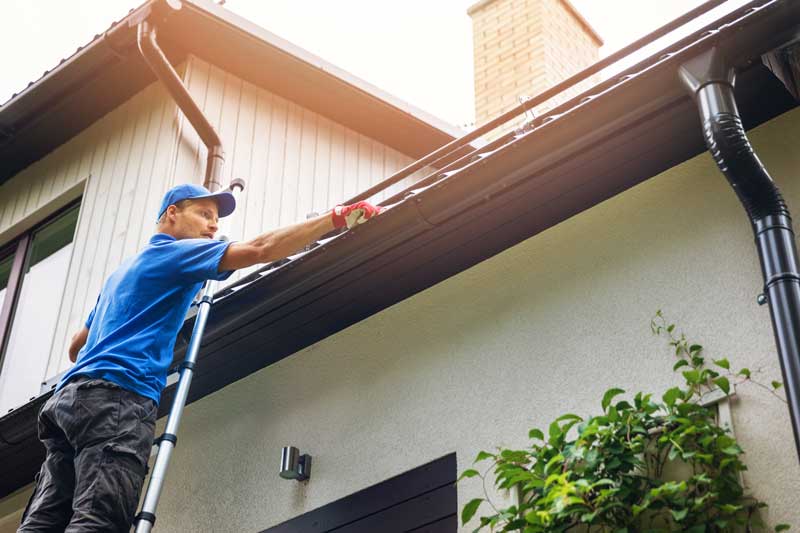 Yellowing leaves and lowering temperatures are reminders that the fall season is quickly approaching. Summer is not over yet, so you still have time for seasonal maintenance. Save time and money with these proactive steps to prepare your home for fall - cooler weather.
Clean Out the Rain Gutters: Leaves, sticks, and debris build up in gutters and require seasonal cleaning. Clogged gutters can seriously damage your drainage system, causing water to find its way into your home. Prevent potential damage by cleaning your gutters and drains before the trees start to lose their leaves. Run water through the drains to check for leaks or damage that may lead to other issues.
Safety of Outdoor Furniture: Cooler weather means more people want to be outside after enduring the high summer temps. But in Texas, the fall season also brings storms. Protect your outdoor furniture from the elements with proper covers and storage when not in use. Seal wood furniture with oil or varnish to protect it from water and UV damage. Seal corrosive metal furniture to prevent rust. Keep cushions indoors when not in use to prevent fading and mold from sun and rain exposure.
Seal Your Home: Check door and window seals. This simple step helps reduce the energy needed to keep your home warm as the temperatures drop. If you see any gaps, reseal them or replace weather strips. Check plumbing under sinks and around toilets and replace the caulking if you notice worn areas where air could escape. Check the areas around the chimney, water heater vents, and furnace to ensure there aren't any holes where cool air can get in, or warm air can escape.
Change Filters: Dirty filters significantly impact your energy bill and affect circulation throughout the home. Dust trapped from the environment lowers indoor air quality if not changed regularly. Check air filters on central vents, heaters, and furnaces.
Deep Clean Your Oven: Holidays and feasts are around the corner! Create a warm and inviting environment for all the holiday festivities by giving your home a deep clean. Some appliances need special care, so research the best method for the ones in your home.
Test Winter Equipment: Fall will quickly turn to winter, so get ahead by checking that your winter equipment is working properly. Pre-planning and preparation go a long way in helping you tackle sudden freezes and temperature extremes. Keep outdoor hose bibs on hand, locate your ice scraper, and test the heater to ensure it is in working order.
Clean the Fireplace: It's a good idea to clean your fireplace before using it for the first time of the season. Clear any leftover soot from last year if you have a wood-burning fireplace. If you have a gas fireplace, check the line to ensure it is working correctly. Check the flue and clear out any dust and debris that may have accumulated since its last use. Birds like to make nests in chimneys during warmer months, so pay attention to anything that may cause smoke to back up into your home and impede proper ventilation.
360 Inspection of Your Home: Fall is the best time to take a thorough look around your home and make any repairs needed before winter catches you off-guard.
My Maid Day is a trusted name for expert maid and professional cleaning services in the Dallas and Austin areas. We offer extensive home cleaning options and a wide range of cleaning services to meet any household's needs, including our 100% satisfaction guarantee. Schedule your cleaning service and experience the difference with our professional cleaning services.