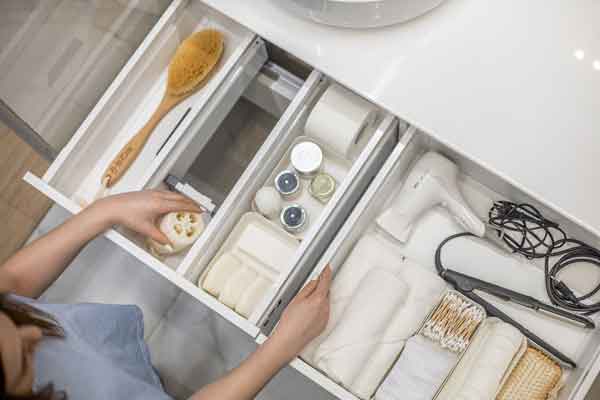 Bathroom cleaning and organization can make life in your bathroom much more pleasant. But the job requires a strategic approach to get it done right, and it takes time. Whatever the size, shape and condition of your bathroom, it is one of the most often used areas of the home. No one would like to wake up with a messed-up, cluttered bathroom. Here, we'll discuss some tried and tested bathroom organization tips & tricks that will help you in keeping your bathroom organized. But, these are just idea starters. You can find many great options online with a simple search for "bathroom storage ideas". Give it a try.
Allot Space for Everything: The best practice is the old adage, a place for everything and everything in its place in your bathroom. In a small bathroom, finding space can be more of a challenge. Over the toilet cabinet storage can be great storage addition. Check online or your favorite home store for ideas. These usually run about $100 to $150, and come unassembled.
Drawer Organizers & Drawer Dividers: Keeping things in order is a good way to declutter your bathroom. Categorizing and organizing in drawers can be done easily using compartmentalized dividers to organize your brushes, combs, lipsticks, chapsticks, shaving items, tubes, small bottles, etc. You can find individual small trays or a single group of compartments in one tray that fits.
Laundry Baskets & Wicker Baskets: A good quality plastic laundry basket can serve as a cheap yet practical storage solution for dirty laundry. Find a slim style if you're short on floor space, or consider hanging a bag on the wall or a door. For tiny bathrooms, the shower can serve as storage when not in use. Add a little bit of charm to your bathroom by using wicker baskets.
Tension Rods: An extra tension rod like the kind used for shower curtains, can be stretched across the tub or shower above your head to hold drip-dry laundry or even towels. S-shape hanging hooks can offer an instant storage solution especially shower caddy, washcloths, scrubbies thus preventing mildew built up by allowing them to have adequate circulation. Install one above the toilet if the toilet has a wall on either side. Depending on the size and configuration of your bathroom, there may be other ways to utilize a tension bar.
Bathroom Cabinets: If your bathroom has cabinets under the sink, some pull out drawers or baskets there can be great organizers. You can find plastic stacked drawers or baskets that will provide ideal storage for cleaning tools and sprays, or for your everyday supplies, or beauty and shower accessories.
Stick On or Over-the-door Hooks: Stick on hooks are available that will not damage your walls and can be placed just about anywhere. Over the door hooks are designed to be placed over the top of a bathroom door on either side for hanging towels, bath robes or clothing on hangers. Hanger rods are available that have multiple slots for several hangers. It can relieve space you may need in your closets.
Shelves and Cabinets: If you have the space, you'll find some nice stand alone shelves and combination shelves and cabinet units at your favorite home store. Or visit Houzz.com or other home sites for more ideas. Easy to mount wall shelves are available in your home goods store or online and provide an instant storage solution for all your daily toiletries such as lotions, creams, tissues, facewash, shaving cream, deodorizer, etc. Additional wall shelves can also be placed in the shower away from the spray, but avoid glass shelves for your personal safety and that of others. If you have a large mirror, you can find small shelves with glue attachments, but be careful about putting anything breakable on shelves with suction cups. They eventually will pop loose and you'll have a mess to clean up.
Speaking of cleaning, after you get things organized, get your bathroom cleaned by our professional maid service, My Maid Day, a trusted name for expert maid service and professional cleaning services in Dallas and Austin areas. We offer an extensive choice of home cleaning options and a wide range of cleaning services to meet any household's needs, including our 100% satisfaction guarantee. Schedule your cleaning service and experience the difference with our professional cleaning services.