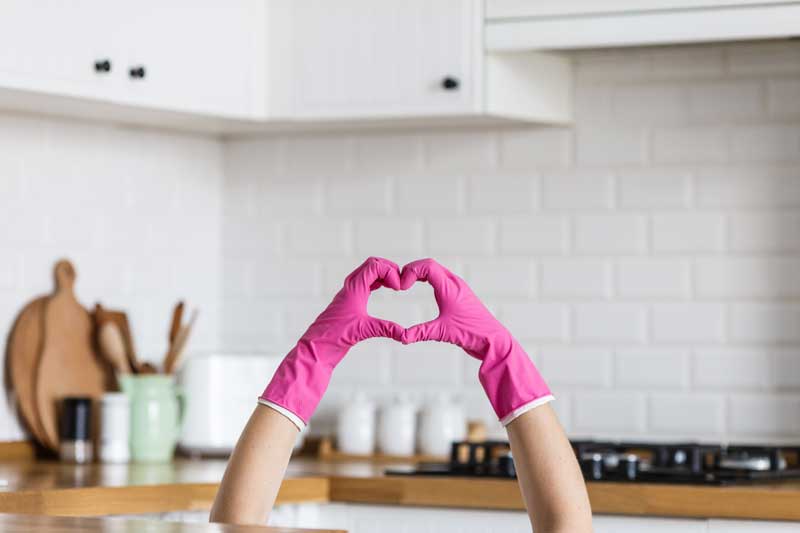 Let's not beat around the bush: deep cleaning your home is a drag. But if you're looking for a way to keep your home clean to the highest standards, deep cleaning is the secret. It takes time, energy, and elbow grease to get those hard-to-reach places spic and span, ensuring that every surface is spotless. With the right attitude and some tips from professionals, you'll soon be donning your cleaning gloves to make your home shine like never before!
Why Should I Deep Clean My Home?
Physical Benefits: It's like an extreme makeover for your space! Giving every corner of your home a proper scrub-down will help make it feel fresh, clean, and new. Plus, deep cleaning helps remove harmful dust mites and other allergens from your home that can lead to breathing problems. And if you're looking to impress guests with an impeccably tidy home, there's no better way than to deep clean!
Health Benefits: Ever hear of dust mites? They are tiny unseen little critters that live in the dust in your home – under the bed and other furniture, in hard-to-reach areas, and in and under your rugs and carpet. Dust mites are allergens, and can seriously impact people who are allergic to them, such as asthmatics or those with skin conditions such as eczema, and small children with yet unknown sensitivities. Pets also increase dust mite infestations. You'll never get rid of them completely, but you can reduce their impact with regular thorough cleaning and periodic deep cleaning.
Mental Benefits: Not only will your home look and smell amazing, but it gives you a sense of accomplishment and helps boost your self-esteem. Deep cleaning is great for improving your mood, reducing stress and anxiety, improving focus, and increasing your productivity. It creates a more peaceful atmosphere and can even help you sleep better.
How Does Deep Cleaning Differ from Regular Cleaning?
If regular cleaning is your everyday upkeep, then deep cleaning is like an annual physical. It requires a bit more time and effort but will really make your home sparkle!
Deep cleaning involves scrubbing, washing, and vacuuming all surfaces that usually go unnoticed, such as ceiling fans, baseboards, walls, windowsills, under furniture and cabinet exteriors. You'll be scrubbing floor grout, cleaning ovens and refrigerators, and polishing sinks and toilets. It even includes things like decluttering closets and organizing drawers. It is a thorough clean that will leave your house feeling brand new.
Busy Life? Get Help from the Professionals!
Does deep cleaning your home feel overwhelming? No need to worry. With My Maid Day, you can get professional-level cleanliness without breaking a sweat! Save precious time and energy while still maintaining a high-level of cleanliness in your home.
Our professional cleaners bring with them years of experience and expertise in providing top-notch services. From top-to-bottom deep cleans to maintenance touch-ups, My Maid Day has got you covered. Life is too short to be spent scrubbing bathrooms – there are better things to do with your free time! It's time to say goodbye to the weekend scrub and hello to a cleaner, fresher home. Put down the mop and pick up the phone – we'll take it from here!
My Maid Day is a trusted name for expert maid and professional residential and commercial cleaning services in the Dallas Metroplex, San Antonio, and Austin. We offer a wide range of cleaning services to meet any household's needs. Get your free quote today!